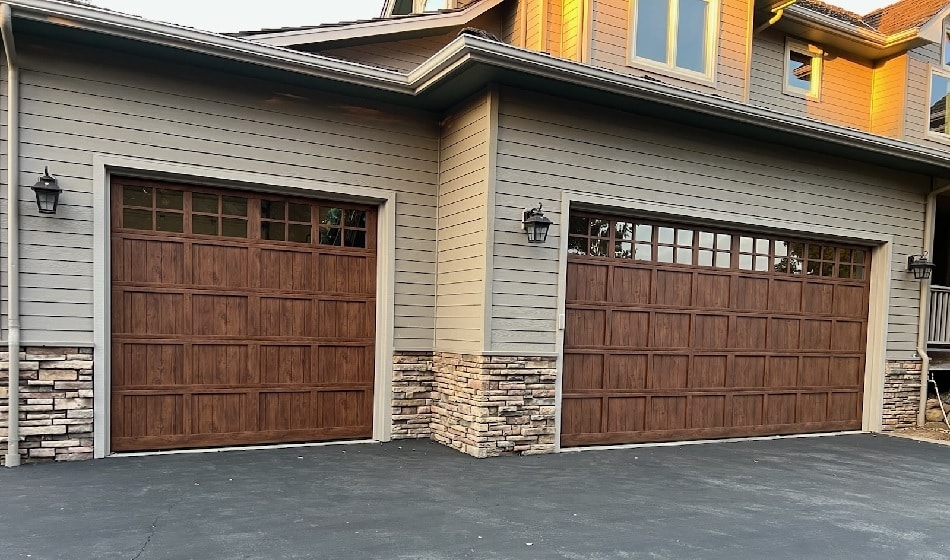 Garage Door Repair and Installation Services In Capitola, CA
Aaron Overhead Doors is a family-owned garage door company that provides replacement and repair services to the residents of Capitola CA. We have over 50 years of experience with garage doors and know how to help you and your family find the right garage door solutions for your home.
Garage Door Repair in Capitola CA
We offer emergency garage door and opener services for residential homes in your area. We also do other overhead garage door-style projects, such as cleaning the tracks, fixing springs or replacing panels if they become damaged over time. Our garage door solutions will ultimately result in better usage after repairs.
New Garage Overhead Doors, Installation & Replacement Services
We'll come to your home for a free inspection and advise which size door would work best. We'll schedule an installation once this is confirmed and we'll deliver the new garage door with experienced installers who will take care of everything from start to finish.
Garage Door Service FAQs
How much does a new garage door cost in Capitola?
On average it cost $1,100 to install a new garage door near Capitola, CA. A basic single garage door costs between $600 and $1,500 to install. The cost of a new garage door can vary depending on various factors such as the type of door, materials used, size, design, and additional features. Custom garage door installation would be on the higher side and basic replacement on the lower side.
Can you repair a bent garage door panel near Capitola?
A bent garage door panel can often be repaired depending on the extent of the damage. A garage door repair company can examine the extent of the bend in the garage door panel. If it's a minor bend, it may be possible to fix it. However, if the damage is severe or the panel is cracked, you might need to consider replacing the panel altogether.
Is it worth repairing a garage door opener near Capitola?
Whether it is worth repairing a garage door opener depends on several factors, including the specific problem with the opener, its age, and the cost of repair compared to the cost of replacement.
Consider the following:
The age of the opener. If your garage door opener is relatively new and still under warranty, it may be more cost-effective to have it repaired rather than replaced.
The type and severity of the problem with the opener can impact the decision. Minor issues like a worn-out gear or a faulty sensor can often be repaired at a reasonable cost.
Consider the cost of repairing the opener compared to the cost of a new one. If the repair cost is significantly lower than the cost of a replacement opener, it might be worth repairing.
If your opener has a history of recurring problems or if it's outdated and lacks modern safety features and technologies, you might want to consider replacing it.
Neighborhoods in Capitola That We Serve Include:
Capitola Village
Depot Hill
Jewel Box
Pleasure Point
Pot Belly Beach
Upper Park Avenue
New Brighton
Opal Cliffs
Get a Free Estimate for Your Garage Door Service
Find out why your Capitola CA neighbors call us first, whether they need a stunning new look, a custom garage door solution or a quick garage door repair service, by reading about our work below.
Local Reviews
for Capitola, CA
Aaron Overhead Doors - Monterey
Rated
5.0
out of 5 stars based on
1
customer reviews
Our Reviews by City
---
Garage door and keypad
Marte

-

Capitola

,

CA

95010



Review of
Aaron Overhead Doors - Monterey
Oh my God Preston was wonderful. My garage doors are both working perfectly. He is replaced my keypad and he's got the best attitude. I would definitely refer him to anybody who needs you guys.
---
Response from Aaron Overhead Doors - Monterey:

We're so happy you loved your experience and can't wait to have you back for your next service appointment.
---
Preston P.
Service door
Near

Wharf Rd,

Capitola

,

CA

95010
Adrian P.
Summertime Garage Door Spring Repair near Courtyard Dr. We were called out right away to restore a garage door spring that had come loose for a residential homeowner. The broken garage door spring was safely removed and replaced with a solid one. The customer was relieved on departure.
Adrian P.
Spring change
Near

Jewel St,

Capitola

,

CA

95010
Adrian P.
Springtime Garage Door Repair Service near Jade Street Park. Came out to a residential home to repair a broken hinge on their garage door. Removed and discarded the old hinge. Replaced hinge with a new, more reliable one. Noticed another one of the hinges was also in need of replacement. Got the go-ahead from the homeowner to replace that one as well. The garage door has been repaired successfully.
Adrian P.
Springtime Garage Door Installation Service near New Brighton. Returned to a residential home for the scheduled installation of a new custom-built Wood Composite Garage Door, offering the customer an environmentally friendly garage door option. The customer was pleased with the new addition to their home.
Adrian P.
Springtime Garage Door Opener Repair near Capitola Gardens. Visited a homeowner with a Chamberlain Garage Door Opener in need of repair. Found the belt on the belt-drive garage-door opener, broken. Replaced the belt, repairing the system for the homeowner.
Adrian P.
Springtime Garage Door Track Repair near Hooper Beach. Went out on a repair call to a residential home. Upon arrival, noticed the garage door track had been damaged from the impact of a fallen item in the garage. Removed damaged track. Replaced with a new track to bring the door back to operation. The customer was relieved on departure.
Damian S.
Provided a quote to a homeowner near Capitola Beach for the installation of a New, Steel Overhead Garage Door. Scheduled Installation of the new Garage Door with the customer.
Damian S.
Garage Door Panel Replacement. Residential homeowner in need of a garage door panel replacement. Technician sent to perform. The damaged panel was removed. The new panel was successfully installed to match the current garage door.
Damian S.
Garage Door Repair. Residential homeowner with a broken garage door spring. Technician sent to repair. Garage door spring replaced. The garage door is now operating as it should for the homeowner.