Upgrade with Modern Glass Garage Doors near Monterey & Santa Cruz, CA
If you're looking for a modern way to update the look of your home, installing glass garage doors is a great option. A glass garage door is a great way to let in natural light and give your home a more open feel. They're also very durable and easy to maintain.
If you live in an area with warm or extreme weather conditions, like Monterey and Santa Cruz, an insulated glass door is a great option to help keep your home comfortable year-round. When it's time for a garage door replacement, our team of experts will help you choose the perfect garage door for your home.
Simply contact us for your free estimate on a new door!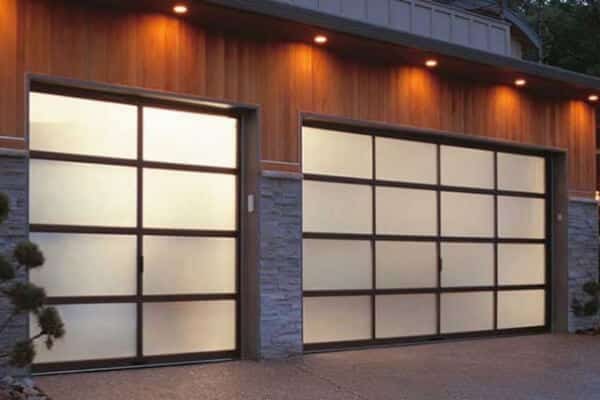 Glass Garage Door FAQs
How much does a glass garage door cost?
Glass garage doors provide more customization choices than any other type of overhead garage door on the market. With so many possibilities, the cost might vary greatly. A basic model, 8-foot garage door with conventional glass, frame and track costs approximately $2,000 for the door alone. However, it is not uncommon to provide quotes for glass garage doors that exceed $10,000.
Here are some types of glass doors and typical costs:
Average price (tempered glass): $900-$4,500
Insulated glass: An additional $800-$2,300
Frosted Glass: An additional $200-$500
French-style garage doors: $1,500-$5,000
Carriage-style garage doors: $1,100-$3,900
Aaron Overhead Door installs glass garage doors in a wide range of styles. Give us a call to get a quote.
Are glass garage doors worth it?
Whether or not a glass garage door is worth it to you depends on your vision for your home. One of the most significant advantages of glass garage doors is their ability to transform the ambiance and enliven the area. This is achieved with a mix of garage door materials, position and, of course, vision. Styles, colors and glass are all essential aspects of the door's overall look and functionality.
If you're considering a glass garage door for your home, contact Aaron Overhead Door for a consultation. We can make your vision come to life.
Do glass garage doors break easily?
No, glass garage doors are robust and durable due to their metal structure. The stiff frame is stronger than conventional door materials and firmly keeps the glass panels in place. This means that breakage is not typically an ongoing issue.
Contact Aaron Overhead Door to learn more about how a glass garage door can improve the beauty and value of your home.
Modern Glass Garage Doors
These type of garage doors offer a sleek and stylish look that can help to update the exterior of your home in the Monterey and Santa Cruz areas. The designs available with glass overhead doors have become increasingly popular in the last few years and offer many benefits and class to any home.
In addition, they allow natural light into your garage, making it brighter and more inviting. If you're interested in glass garage doors, there are a few things to keep in mind.
They need to be installed by a professional.
They can be more expensive than other types of garage doors.
They usually last a long time with proper care and maintenance.
If you're ready to upgrade your garage door, a modern glass garage door may be the perfect option for you.
High-End Glass Garage Doors
These types of garage doors are a popular upgrade for homeowners looking to add value and curb appeal to their property in the Monterey & Santa Cruz areas. Not only do we provide glass doors, but we offer glass overhead doors for inside your home as well! This is the perfect way to open up an indoor space!
Glass doors offer a number of benefits in terms of function and energy efficiency. They can help to keep your home cooler in the summer and warmer in the winter by trapping heat or allowing natural light in.
We specialize in glass garage door repair and new installation for homes from Monterey to Santa Cruz. The added value and curb appeal that glass overhead garage doors provide are well worth the investment.
Practical Glass Garage Doors
Glass allows natural light to stream into your garage. Take that gloomy look away from this essential part of your home with a glass garage door.
Glass garage doors are also a great way to show off your car collection or workshop. Glass garage doors can be heavy, so we will make sure to reinforce the frame and hardware before installation. With a little bit of planning, glass garage doors can be a practical and stylish addition to any home.
Get Started - Request a Free Quote On a Glass Garage Door Now
Interested in glass garage doors for your California home? We're interested in helping you! Call Aaron Overhead Door for an estimate on your garage door today at 831-219-8648 .