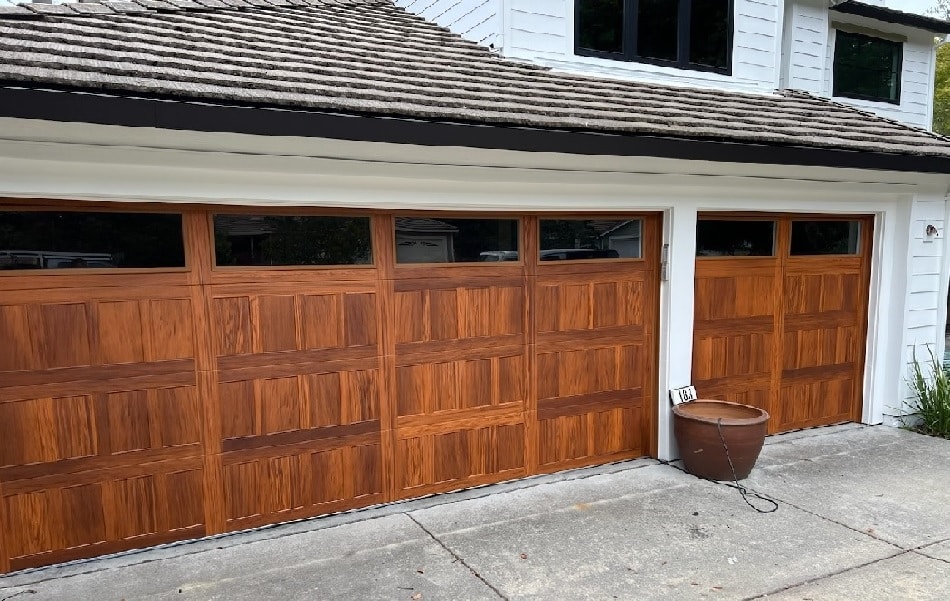 Garage Door Repair & Replacement Service near Aptos CA
Aaron Overhead Doors is a family-owned garage door company providing Aptos and Rio del Mar residents garage door repair & replacement services. If your garage doors need help call the #1 garage door service contractor near Aptos. We are here to serve you and your garage door needs.
Aptos Garage Door Repair
Emergency garage door and opener repair service for residential homes. If the noise from the garage door is getting on your nerves, we can fix that too, and show up on time! We also offer services such as cleaning tracks or replacing panels if they become damaged over time. Some repairs may require some adjustments which will affect how well it operates initially but ultimately result in better usage after all garage door repairs and modifications.
New Garage Door & Replacement Service near Aptos
We provide garage door sales, installation and replacement services for all types of garage doors. We offer custom new garage doors too. We will come to your home for an inspection and confirm that the size of our doors is suitable. We'll schedule installation once this has been confirmed, then deliver a new garage door along with experienced installers who know how best to handle all aspects from start to finish! We will also offer a final project walk-through before hauling away your old door.
Rio del Mar Garage Doors
Whether you need to fix your garage door or install a new one, there are plenty of services available in the village of Rio del Mar in Santa Cruz County. If your garage door is broken, Aaron Overhead Door will get it fixed fast. This may involve repairing or replacing the opener, garage door panel, or broken springs that are a nuisance when they happen.
Find out why your Aptos and Rio del Mar neighbors call us first after they review our garage door company, whether they need a stunning new look or a fast garage door repair, we're your highly recommended local garage door company.
Your Local Garage Door Specialist – Aaron Overhead Door
Free Estimates
New Garage Doors, Replacement and Custom Installations
Prompt Repairs
Spring Replacement, Repair & Adjustment
Garage Door Tune-Up, Maintenance & Service
Garage Door Remotes
Automatic Garage Door Openers
Garage Door Replacement Panels
Custom Garage Doors
Garage Door FAQs near Aptos, CA
How do you fix a garage door that won't close all the way near Aptos?
If your garage door would not close entirely, there might be several issues. Most of the time, though, there is an issue with your sensors. The lenses of these sensors can get blocked, causing them to provide a misleading signal to the opener's control board. Cleaning them with a gentle cloth often solves the problem.
If your sensors are working properly but the garage door is still not closing past a certain point, inspect the tracks to verify there are no impediments stopping advancement. The same thing might happen if the track is twisted or a roller is damaged. Examine both tracks for evidence of wear. If you come across a broken portion, you can often bend it back into place using clamps or well-placed hammer hits. If you don't feel comfortable doing this, you should consult a specialist.
How much does it cost to replace a garage door in Aptos?
Whether your garage door has aged and broken down or you simply want to refresh the look of your house, a professional garage door replacement will cost between $590 and $1,650. The national average cost, including materials and labor, is around $1,120. Bare in mind that the typical cost of replacing a garage door may vary. The size and quality of the garage door will affect the final cost of your project.
Is it better to repair or replace a garage door opener near Aptos?
The usual lifespan of a garage door opener is 10 to 15 years, but with proper maintenance of the rollers and springs, you may get 20 years or more out of it. Even if yours is still operational, there are compelling reasons to consider replacing it. Newer versions provide enhanced safety, security, and convenience, which may be reason enough to purchase a new garage door opener. For example, if your garage door opener lacks a safety reversing feature, or if the one it has no longer works, replacing the opener is strongly advised as a precautionary step.
Neighborhoods Served in Aptos Include:
Seacliff
Seascape
Rio del Mar
Mar Vista
Seascape Uplands
Trout Gulch
La Selva Beach
Manresa
Willowbrook
Aptos Hills-Larkin Valley
Local Reviews
for Aptos, CA
Aaron Overhead Doors - Monterey
Rated
5.0
out of 5 stars based on
1
customer reviews
Our Reviews by City
---
Quick Work!
Horst

-

Aptos

,

CA

95003



Review of
Aaron Overhead Doors - Monterey
Juan was very knowledgable, easy to talk to, explained things well. Showed me on how to adjust the gap on the bottom. Will pass him on to my friends.
---
Preston P.
Service door
Near

Porter Gulch Rd,

Aptos

,

CA

95003
Larry C.
Garage door repair near Seascape Golf Club in Rio del Mar. Garage door spring replacement, check panels and complimentary safety inspection. Garage door now working properly.
Near

Loyola Dr,

Aptos

,

CA

95003
Adrian P.
Summertime Garage Door Installation Service near Ventana Ct. Sent to a residential property to install a new 2000 series steel garage door. The garage door was installed successfully, and its function and safety were evaluated. The new garage door is functional and a wonderful improvement to the home's façade.
Adrian P.
Summertime Garage Door Maintenance near Victoria Ln. Called out to perform maintenance on a garage door for a residential homeowner in order to lessen the need for future repairs. Searched the whole system for damage indications. tested each component for reliability and safety. All working components were lubricated. The homeowner is happy that the garage door is working well.
Adrian P.
Springtime Garage Door Panel Replacement near Willowbrook County Park. Went out to replace a damaged panel on a residential homeowner's garage door. Removed the damaged panel and replaced it with a new one. The garage door has been fixed for the homeowner.
Juan M.
Spring Change
Near

Quail Run Rd,

Aptos

,

CA

95003
Juan M.
Service Garage Door & Spring Adjustment
Near

Crocker Ct,

Aptos

,

CA

95003
Preston P.
Motor installation
Near

McGlenn Dr,

Aptos

,

CA

95003
Larry C.
Garage door repair service on Amarr Lincoln garage door with Thames windows. Broken garage door spring replacement and complimentary safety inspection. No one likes to deal with broken garage doors. They are frustrating, expensive and can be dangerous if they're not fixed quickly!
Near

Long Leaf Ln,

Aptos

,

CA

95003