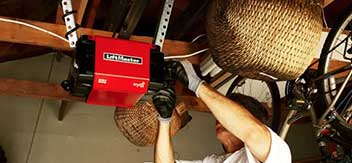 How to Choose the Best Garage Door Opener System
Your garage door opener broke. Now you have to decide which type of opener to buy – a screw, chain, or belt drive guide garage door opener. Which one?
Selecting the right garage door opener system is crucial for the security, convenience, and smooth operation of your garage. With numerous options available in the market, it can be overwhelming to determine which one is the best fit for your needs. We will provide you with a comprehensive guide on how to choose the best garage door opener system, taking into consideration important factors such as functionality, safety features, reliability, and compatibility.
Determine the Drive Type
A drive guide is the track (or T-rail) that guides and shields the chain, screw, or belt while moving the door open and closed. It connects the operator to the trolley, which is connected to the garage door.
There are three main types of garage door opener drives:
Chain drives are also louder than belt drives, but more quiet than screw drives. They typically have less problems than screw drives but more than belt drives. Chain drives include a chain, similar to a bicycle chain, which runs along a rail to operate the electric motor that opens and closes the door. The chain pushes or pulls a trolley (carriage) that connects to a metal bar, called a J-arm, that is affixed to the garage door. This arm moves back and forth to control the door movement.
A belt drive is more quiet and, generally, a bit more expensive than the screw and chain drives. Belt drive openers are similar to chain drives, but a reinforced polyurethane or steel-reinforced rubber belt is what pushes or pulls the trolley. Belt drives can be just as reliable as chain drives, but quieter, with very few issues.
A screw drive is historically loud. A screw drive lifting device moves along a threaded steel rod. If there's a bedroom above your garage door, you can bet whoever sleeps there will get used to the hum of its movement. As far as maintenance goes, the parts are cheap to purchase for repair, but need to be replaced regularly.
Each drive type has its advantages and considerations. Chain drives are affordable but can be noisy, while belt drives offer quieter operation but at a higher price point. Screw drives provide a balance of performance and cost. Consider factors such as noise tolerance, budget, and personal preferences when selecting the drive type.
From personal experience, we upgraded from a chain drive to a belt drive opener and we barely hear the garage door open anymore, which is nice. 
Assess Motor Power and Horsepower
The motor power and horsepower rating of the opener system play a vital role in its performance. Evaluate the size and weight of your garage door to ensure that the opener system has sufficient power to handle it effectively. Heavier or larger doors may require higher horsepower ratings to operate smoothly and efficiently.
Prioritize Safety and Security Features
A reliable garage door opener should prioritize safety and security features. Look for systems equipped with features like rolling code technology, which changes the access code each time the door is operated, preventing unauthorized entry. Safety sensors are also crucial, as they detect obstructions and automatically reverse the door's motion to avoid accidents or damage.
Consider Remote Access and Smart Home Integration
Modern garage door opener systems often come with remote access capabilities and smart home integration. This allows you to control and monitor your garage door from anywhere using your smartphone or other connected devices. Evaluate the available features, compatibility with smart home platforms, and ease of use when considering remote access options.
Check for Backup Power Options
Power outages can leave you unable to open or close your garage door. Consider garage door opener systems that offer backup power options, such as battery backup or manual release mechanisms. These features ensure that you can still operate the door even during power interruptions.
Look for Warranty and Customer Support
A reputable manufacturer will provide a warranty that covers the opener system and its components. Check the duration and coverage of the warranty to ensure sufficient protection. Additionally, research the manufacturer's customer support services and reputation for timely and effective assistance should any issues arise.
So, based on how loud or quiet you want your garage door to be, and how much maintenance is required, hopefully, this post will help you decide which one is for you.
For more information about buying a garage door read out guide.
Choosing the best garage door opener system requires careful consideration of various factors, including drive type, motor power, safety features, remote access capabilities, backup power options, and warranty coverage. By assessing your specific needs and priorities, you can make an informed decision that ensures optimal performance, convenience, and security for your garage.
Remember, investing time in selecting the right opener system will result in long-term satisfaction and peace of mind.