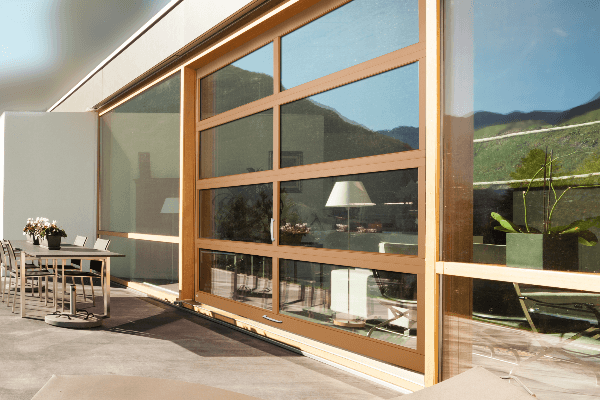 Embrace the Style & Function of a Modern Glass Garage Doors
A new modern glass garage door is a sure way to compete in having the best looking house on the block. Glass garage doors are a beautiful and stylish way to customize your home and they offer many benefits.
When it comes to upgrading your home's exterior, don't overlook the garage door. Modern glass garage doors have emerged as a popular choice among homeowners seeking to enhance their curb appeal while maximizing natural light and aesthetic appeal.
In this blog post, we will explore the different types and numerous benefits of modern glass garage doors, from their contemporary design and versatility to their energy efficiency and durability. Discover how these stylish additions can transform your home's appearance and elevate its overall value.
Types of Glass Garage Doors
Aaron Overhead Door is proud to offer The Clopay Avante Collection.
There are various styles and custom designs for natural lighting to choose from. The Avante glass garage door is crafted with your level of privacy and lighting preferences in mind.
Some popular window options are clear, frosted, tinted, white laminate and mirrored glass. Several color choices for the frame are also available.
The Avantie Collection adds beauty and innovation for your garage door also creating a highly marketable investment. In addition, glass garage doors are unique when compared to traditional garage doors. Whether your garage door is outdated or you simply want to improve your home's curb appeal, our specialists provide you the best service you deserve at a very competitive price.
Benefits of Glass Garage Doors Include:
Contemporary Design and Aesthetic Appeal
Modern glass garage doors offer a sleek and contemporary design that instantly adds a touch of sophistication to any home. The clean lines and transparent nature of the glass panels create an elegant and visually appealing look, making a striking architectural statement. Whether your home features a modern or traditional architectural style, glass garage doors can seamlessly blend in or provide an eye-catching contrast, enhancing its overall curb appeal.
Abundance of Natural Light
One of the standout advantages of glass garage doors is the abundant natural light they allow into your garage space. The transparent or translucent glass panels flood the interior with sunlight, creating a bright and inviting atmosphere. This not only improves visibility within the garage but also eliminates the need for artificial lighting during the day, resulting in potential energy savings.
Versatile Customization Options:
Modern glass garage doors offer a wide range of customization options, allowing you to tailor the design to match your personal style and architectural preferences. From frosted or textured glass for enhanced privacy to various frame finishes and hardware options, you can create a customized look that complements the overall aesthetic of your home. The versatility of glass doors ensures they can adapt to any design scheme and provide a unique and personalized touch.
Energy Efficiency and Insulation:
Contrary to popular belief, modern glass garage doors are designed with energy efficiency in mind. They often feature insulated glass panels with high-performance ratings, which help regulate temperature and minimize heat transfer. This insulation not only improves energy efficiency but also reduces noise transmission, making your garage a more comfortable and peaceful space.
Durability and Low Maintenance:
Glass garage doors are constructed with durable materials that can withstand the rigors of daily use and environmental elements. They are typically made from tempered or laminated glass, which provides strength and resistance to impact. Additionally, modern glass doors require minimal maintenance, as they are less susceptible to dents, rust, or fading compared to traditional materials like wood or metal. Routine cleaning and occasional inspection are usually all that is needed to keep them looking their best.
Interested in installing a modern glass garage door for your Monterey area home or Santa Cruz area property? Aaron Overhead Door delivers expert garage door replacement & installation services in Santa Cruz, Monterey & San Benito Counties.